NAMCOR and the Government of the Republic of Namibia have identified the Kudu Gas Project as one of its key and ultimate responses to the looming energy crisis in the country.
The Kudu Development Project has as its purpose the development of the Kudu Gas Field located offshore Republic of Namibia. The Gas produced from the Kudu Gas Field will be transported through a 170 km pipeline to a power station that will be built and situated at Uubvlei, approximately 25 km north of Oranjemund in southern part of Namibia.
NAMCOR and its partners (collectively known as the Upstream Parties) will be responsible for drilling of production wells, installation of subsea equipment, installation of the floating production system, gas production, conditioning and transportation of the gas to the power plant.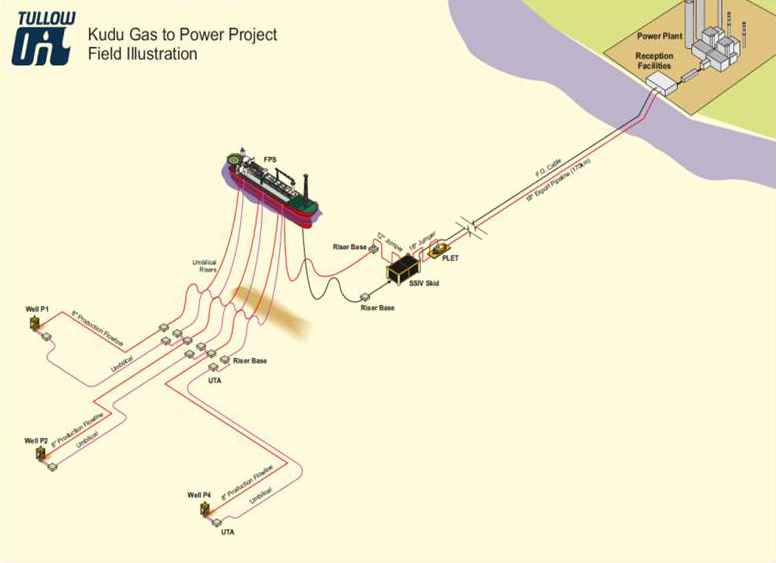 NamPower and its partners (collectively known as the Downstream Parties) will be responsible for the purchase of the gas, the design and construction of an 885MW combined cycle gas turbine that will be utilised for the generation of electricity. NamPower will be the sole purchaser of the electricity produced by the power plant. Since the expected Namibian domestic electricity demand from the power plant is approximately 400MW, the remainder of the electricity will have to be exported by means of power purchase agreements with Zambia (Copperbelt Energy Corporation) and South Africa (Eskom).
Key Milestones:
Financial Investment Decision (FID) is eminent (+/- July 2016)
BW Offshore was selected as the preferred Technical Operator and were duly informed via written communication in July 2015
Fruitful discussions on pertinent issues such as envisaged partnership, resourcing of integrated teams and remaining project milestones have since taken place with BW Offshore
Key Benefits
Gas provides lower cost power
Provides long term power supply
It utilises a Namibian resource and brings in revenue for the country rather than creating an import liability
It is environmentally more friendly
Will have a positive impact on the Namibian economy
Subsea wells
Three pre-drilled subsea wells, option for fourth
Dedicated flowlines and riser for each well
Floating Production Facility (FPS)
Dual separation and gas compression trains
Dry gas export
Spread moored in c.170m water depth
Export pipeline
170 km long 18" diameter line
Route surveyed
Onshore reception facilities
1 km pipeline, removable temporary pig receiver, manually-operated valve under Upstream's control
ESDV, fiscal metering, pressure let-down and gas conditioning systems located within the power plant
Design
125 mmscf/d gas production; 120 mmscf/d gas export – normal export rate of 108 mmscf/d
200 bbl/d condensate handling; 1950 bbl/d water handling
25 years operating design life
98% availability for the full production system (well to sales point)